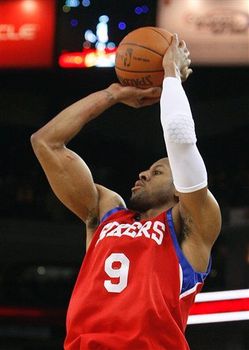 Nobody gets angry like Philadelphia sports fans. And right now, they want general manager Ed Stefanski's head on a platter, according to the Philadelphia Daily News.
"I hear them," said Stefanski, whose team has taken a huge step backward after making the playoffs in his first two seasons. "I speak with season ticket holders. I take e-mails from fans and get phone calls. I try to respond back to every one of them.

"I know what they are saying."
Go ahead an be angry, vent all you want, but the Sixers are boxed into mediocrity for a couple years to come.
Next season they already have $65.8 million in salary committed, which is right at the projected luxury tax line. They also have 11 players under contract already, including all the key players from this year's disaster, and you can figure another $2.5 million for the Sixers first-round draft pick (that amount could go up or down depending on where they draft). Even if you fill out the roster with basic minimum salary players, you are paying some tax and have little room to maneuver the roster.
So just trade for some cap space? All the cool kids are doing it.
Good luck. Nobody is going to take on three more seasons of Elton Brand at $16 million and up. Nobody. If Isiah Thomas were still running the Knicks, he would hang up on that phone call. Maybe in a couple years you can move him as an expiring deal, but for now you get to keep watching him shoot layups into the bottom of the backboard.
Stefanski might find some interest in the five years Andre Iguodala has left, but he will never get that much talent back. And yes, Philly fans, he is talented. He would make a great number two option, just stop expecting him to be a number one. Sorry you paid him like one.
For the 2011-12 season (assuming there is a season) a lot of salaries come off the books and then the Sixers can start to maneuver. Maybe over this summer Stefanski can find a home for Samuel Dalembert to help save some money short term, but it is going to be a couple years before they can make any serious moves. And as long as Brand is still a Sixers property, that rebuilding can only go so far.
Willie Green and Jrue Holiday and Thaddeus Young have potential, and with the coming draft you can add another good young piece. You can start that part of the process. But it is going to be a long and slow one.
You may not like it Sixers fans, but this is your team for now.