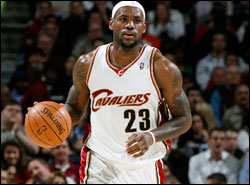 LeBron James can score pretty much at will, but what has always helped set him apart was how well he could pass. How he got his teammates involved despite Mike Brown's offense.
The smart folks at The Painted Area went through the archives and found LeBron's 8.5 assists per game this season is better than any forward in NBA history. The next best, Larry Bird at 7.6 assists per game in 1986-87. Not shockingly,  the top 15 list list is heavy on Bird, John Havlicek and Grant Hill. With the odd Scottie Pippen thrown in.
LeBron is on pace to not just break this mark, but shatter it – almost a full assist per game ahead of Larry Legend's best single-season mark. Also, note that only one of the top nine forward assists-per-game seasons was accomplished in fewer minutes per game than James' 39.0 so far this season (Bird, '90-91, 38.0).

Obviously, the big catalyst in pushing LeBron's assists up to another level has been the spate of injuries to the Cavs backcourt, most notably to point guard Mo Williams, which has increased James' responsibilities as a distributor.
While LeBron has always carried "the next MJ" tag, he has always been more Oscar Robertson, with a little Magic Johnson thrown in. Players with incredible court vision and a sense of how to set up teammates, not just put the ball in the hole.
It's a great state, although I'm not sure we needed more stats to tell us LeBron is special and his team is having a good year.