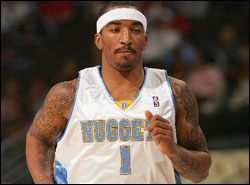 It takes a certain confidence for an opposing player to snipe at the indisputable Western Conference favorite Los Angeles Lakers, and something between arrogance and complete stupidity for an opposing player to take a shot at Kobe Bryant. If that's not a cue for the Nuggets' J.R. Smith, then I don't know what is. Here's what Smith had to say about Kobe on Twitter (via the OC Register):
"Dont get me wrong kobe is great but not when he play me"
Not only is Kobe one of the best players in the league, but he's competitive beyond belief and just about the last guy on the planet that you'd want to give bulletin board material to. Considering the Nuggets and Lakers could very well have a date in the Western Conference Finals, I wouldn't say it's the smartest thing in the world to give Bryant extra motivation…especially considering Smith's fleeting interest in defense.
And for the record, Kobe is averaging 26 points (46.2% FG, 45.5% 3FG), six rebounds, and an assist against Denver. That's technically a notch below his season averages of 28.0 points (46.5% FG, 35.5% 3FG), 5.4 rebounds, and 4.7 assists per game, though Bryant is averaging three less shot attempts per game against the Nuggets.
The two teams — plus Smith and Bryant — meet in a nationally televised game Sunday.