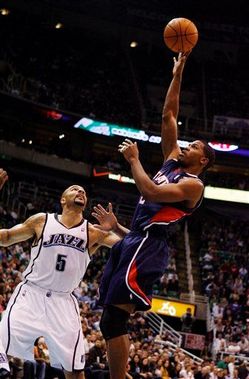 The math is pretty simple. There are three sure-thing, worth-the-max-deal free agents available this summer: LeBron James, Dwayne Wade and Chris Bosh. There are eight teams that have cleared enough cap space to sign a max-level free agent, eight franchises that have sold hope this summer to their fan base.
One, maybe two of those teams is going to get the big-time player they want (there's a chance none of the big three leave their current homes). That means a second tier of free agents may well get overpaid by some general manager trying not to look the fool.
Joe Johnson's name gets tossed in with that second group all the time. But the insightful Kevin Pelton at Basketball Prospectus ran the numbers and thinks signing Johnson will be a mistake because his game is about to fade away, like so many jumpshots.
There are a couple of factors at play here. First, Johnson's statistics have never matched his reputation. Second, players of Johnson's ilk–above-average starting wings–have tended to decline in a hurry in their early 30s. By year three, just two of Johnson's top 10 comparables (Steve Smith and Jalen Rose) were offering their team any kind of value. A max deal (five years) for Johnson could end up very ugly.
Pelton is not the only one questioning if Joe Johnson is a good fallback, over at Blog-a-Bull (where they are already focused on the free agent market, because it's more interesting than the Bulls on the court right now) the conventional wisdom is Johnson has a good year or two left, but his contract will likely be for five.
Pelton's calculations — he is one of the best out there with the modern "moneyball" advanced statistics, the guy is just flat out good at this — say that GMs would be better with Manu Ginobili. Sure, the 2010 Manu is not as good as the 2006 version, but he is going to give some team a couple good years and his fade will be a little slower than Johnson. Just ask the Thunder after what Manu did to them Wednesday night.
Pelton even suggests that going after Rudy Gay or David Lee would be better long term than Johnson. Maybe even Tyrus Thomas.
Pelton is going to be right about this, and some general is going to be very, very wrong.