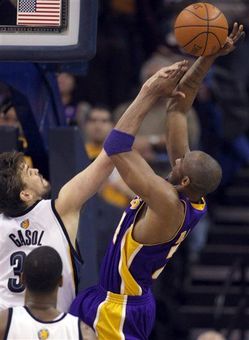 Our game recaps from Tuesday, or what you missed while your wife had control of the remote so she could watch women's figure skating.

L.A. Lakers 99, Memphis 98: Kobe Bryant can cover up a multitude of sins for a team. Memphis deserved this one, largely because the Lakers decision making is often terrible. Shannon Brown over dribbles then jacks up bad shots, Jordan Farmar breaks the offense, Derek Fisher has lost a few steps, and seemingly the only guy who can consistently make a good post entry pass is Pau Gasol, but he is usually in the post.
The game winner from Kobe, and the ensuing miss by OJ Mayo, came because of better execution by the Lakers. When the Lakers had to shoot, they inbounded the ball to Gasol, who passed to Odom then Gasol set a moving downscreen pick that took Rudy right out of the play and Kobe got a clean look at a three. You cannot give Kobe a clean look like that. Cannot.
When the Grizzlies get their chance they run the high pick-and-roll for their last shot and the Lakers switch it so Pau Gasol and his massive wingspan are there to disrupt Mayo, who is forced to take a fade away a fade away three and misses it. Bottom line: Gasol and Bryant executed under pressure, and the Lakers win a lot of games because of that.
Cleveland 105, New Orleans 95: Marcus Thornton? Who? Rookie second rounder Marcus Thornton? The scouting report back on draft night said he could score and eventually might develop into a nice spark plug off the bench.  Turns out eventually is now. He had 37 on 15 of 22 shooting, with 23 in the second quarter alone.
Thornton took advantage of something that other teams are going to try to exploit in the playoffs — against really quick guards, whether on penetration or the high pick-and-roll, Shaq has to lay back and give up the jumper. He is just not quick enough to recover and guys can just blow by him, so rather than give up the layup he concedes the jumper. Which is fine, until you run into somebody as hot as Thornton with the jumper. Then all bets are off. Not that it mattered that much, Cleveland still won.
It says a lot about the Cavs — and the expectations of the fan base now — that they snapped a three-game losing streak and Cleveland guru/beat writer Brian Windhorst tweeted after the game that it still "felt like a loss." They not only expect wins, but convincing ones. They will learn that in an 82 game season sometimes you just take the win. (Well, maybe not, Lakers fans never learned that.)
Boston 110, New York 106: For three quarters this was played exactly in the pace and style the Knicks would want — fast and without defense. Then the fourth quarter was an ugly cocktail of bad decisions, missed shots and a splash of good defense. Left a bad taste in your mouth if you watched it. The Knicks stayed true to themselves in that quarter — they kept shooting threes and they kept missing them, hitting zero of their last seven attempts. The Celtics played about five minutes of good defense. That is basically your ballgame.
But you want to know about Nate Robinson, don't you? He looked a little uncomfortable, like he was thinking not just reacting and playing. He was trying to facilitate the offense, not just score (and when he did he was just 2 of 7 and got rejected by Lee once). Don't read too much into one game, there is going to be an adjustment for the Celtics second unit, getting used to Nate's game and him adjusting to their team style.
Minnesota 91, Miami 88: What do you want me to say, Miami without Wade is just not very good.
Portland 102, New Jersey 93: He's a Blazers big man so this was bound to happen — Marcus Camby twisted his ankle five minutes into the game, left and did not return. Post-game X-rays were negative, but it is unknown how long he will be out.
As for the game itself, a very slow pace (81 possessions, about 10 off the Nets normal speed of play). But Portland jumped out early and if they had cared about playing defense at the end it wouldn't have been this close.
Phoenix 104, Oklahoma City 102: Just like so many games this year, the Suns blow a 15 point lead and find themselves down by 10 in the fourth quarter as the Thunder were on their way to another… what do you mean the Suns came back and won? That's not how the story has gone this year for the Suns. Well, good on them for showing some grit.
Impressive game winner for Phoenix — Jason Richardson beat the Thunder's defensive stopper Thabo Sefolosha off the dribble, found all the help defenders late to arrive and got to put up a pretty little floater in the lane that dropped in with 0.7 left. On another note, credit to Goran Dragic, who took over for Steve Nash but played within himself and didn't make too many mistakes. He finished with 16 and 10.
Detroit 101 Sacramento 98: This is the kind of game the Pistons lost for much of the season, when Rip Hamilton and Tayshaun Prince were out. Those two combined for 52 points on 62 percent shooting.
Philadelphia 110, Golden State 102: The Sixers were up by 24 in the third in this battle of mismatched rosters, in part because Lou Williams stepped into AI's starting spot and had a night, finishing 26 points, 10 rebounds and 7 dimes. But the Sixers lost interest, the Warriors got hot from the outside as they do at times, and a 16-2 run later the end was in doubt. Williams hit a late three to seal Philly's win.