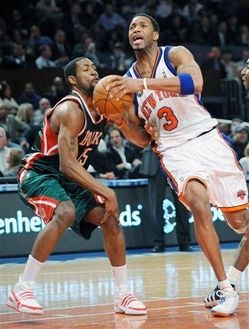 UPDATE 1:25 pm: McGrady is now listed as probable for tonight's game against the Celtics.

9:38 am: For one game, we all saw the Tracy McGrady we wanted to see, wanted to believe was still in him. A guy who could drive and pass or hit the three. The guy who could just take over a game.
In his second game, we saw the Tracy McGrady we've seen all to much of in recent years — he was limping on the court and hit just 5 of 14 shots.
McGrady said afterward he knocked knees twice and wouldn't guarantee he'll be healthy enough to face the Celtics tonight in Boston.

"Hopefully it's not sore [Tuesday]," McGrady said. "Maybe I'll lace them up and play, but we'll see. We'll see how it feels before the game…"

"In the first half, I knocked knees with somebody. I didn't really feel it until I came in here and sat 15-20 minutes and went out," McGrady said. "Toward the end, I banged knees again. Coach saw me limping, so he pulled me out."
This sounds like the kind of thing that is sore, but where there is no structural damage (although sore could keep him out tonight). Nothing serious would be a good thing for the McGrady comeback, and for the Knicks who clearly need his offense  —  New York scored a season-low 67 points with the slower McGrady running the show. Part of that slower play for McGrady was due to him getting 32 minutes of burn in the previous game while still trying to get his game stamina back.
Hopefully for the Knicks and their fans, it's not more than that.