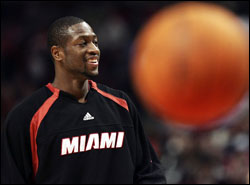 The Miami Heat made some very public plays around the trade deadline, trying to land Amar'e Stoudemire or Carlos Boozer to be the inside to Dwyane Wade's outside. (Sure, Wade is more of a slash to the inside guy, but you know what we're saying.)
Those attempts were more about this summer than this season. The Heat are one of several teams fighting for the last few playoff spots in the East (currently they are seventh), but even if they landed one of the big names the Heat are not a rounded enough squad yet and were destined to be bounced in the first round.
The moves — and their very public nature — were about showing Wade how serious the Heat are. "See Dwyane, we tried ever so hard, but the other teams just were not nice. Please do sign a new deal here and we will try again this summer."
Along those same lines, Heat President Pat Riley told Joe Rose of WQAM in Miami that Wade has been consulted on deals.
Yes I think that the landscape of the NBA has changed. I coached Earvin (Johnson) and Kareem (Abdul-Jabbar) and was around Jerry West and I knew what his relationship was like with his great players. I am sure at that time I knew for a fact that Jerry would talk with Magic and Kareem and find out about these guys and what they will need and what is this player like. I think it goes on in all sports. We have a very ultra competitive superstar, I mean ultra competitive. A fierce competitor and he wants to win. He is no different than myself, no different than Mickey (Arison), and this is what the franchise has been built on. Those kinds of players. So we want to add the kinds of players that are going to compliment Dwyane, Udonis, Beasley and Mario Chalmers and the picks that we make in the first round this year and hope that he is not just going to be pleased with him, but he is going to say I got more guys to go to battle with. He gets consulted, maybe not on a daily basis but on certain guys because I know he knows them."