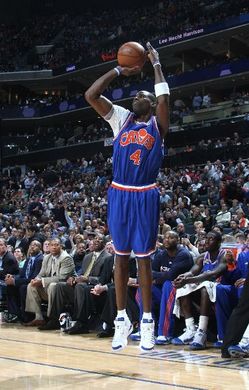 After an extremely rocky first game as a Cavalier and a strong performance in his second game, Antawn Jamison will get the start at power forward tonight when the Cavaliers take on the New Orleans Hornets.
Moving Jamison into the starting lineup makes a lot of sense for the Cavaliers. One of the major reasons Jamison was brought in was to provide outside shooting next to Shaquille O'Neal, which neither Anderson Varejao nor J.J. Hickson can provide.
Additionally, the Cavaliers were in the strange situation of having one of the league's best records despite their starting lineup not being terribly effective. According to 82games.com, the starting lineup of Mo Williams/Anthony Parker/LeBron James/J.J. Hickson/Shaquille O'Neal has actually been outscored this season, with the Cavaliers giving up 36 more total points than they scored when that lineup was on the floor. (Data accurate as of February 15th.)
Hickson, the 21-year old forward out of North Carolina State, had started the previous 51 games for the Cavaliers. He was originally put into the starting lineup when the Cavaliers played the Knicks on November 6th. The Cavaliers went on to win five games in a row, and Hickson had been in the starting lineup ever since. Hickson's play has been erratic over the course of the season, but February has been his best month. Hickson is averaging 11 points a game on 63% shooting in February, both season highs.
On paper, putting Jamison into the starting lineup is the right move for the Cavaliers. Tonight, they will find out if it's the move that will break their three-game losing streak.