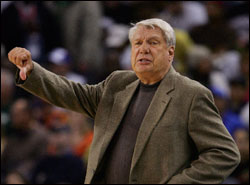 The Warriors have won 16 games so far this season and are on pace to win about 22. Last season they won just 29. They are a terrible defensive team (28th in the league in points surrendered per possession). In virtually every other NBA town that would have the media asking for the coach's head on a platter (in New York the media would have passed pitch forks and torches out to the assembled mob).
But Don "drinking with the players" Nelson's job is safe.
"As far as we're concerned, I've seen him in a lot of situations," (Warriors General Manager Larry) Riley answered (a question about Nelson on a conference call with season ticket holders). "He has not lost the ability to coach or forgotten how to put teams together as far as strategy and using lineups and so forth.

"He's going to get the record. But at the same time, if it wasn't for that, I'd still like him as a coach. And I like the style of play that we use. And it's important that we continue to go forward with that style of play, and he's the guy to coach it."
Of course Riley said that — Nelson won the power struggle and forced Chris Mullen out the door, Riley is one of Nelson's guys. To be fair, Nelson can still coach — Sunday night Nelson helped his team beat a hot Hawks squad by going bigger along the front line in the second half, and benching Monta Ellis. Besides, kicking the guy out the door as he is close to becoming the NBA's all-time winnngest coach would be cold.
But change has to be considered in the Bay Area, and if it is going to come, it's not going to be from Riley. It will be from ownership, but with Chris Cohan in charge, Warriors fans better get used to the current regime.  Now if Larry Ellison ever buys the Warriors, things will get interesting. But until then, run-and-gun, defense be damned.