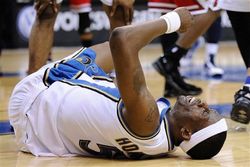 UPDATE 2:58PM: D-League blog Ridiculous Upside is reporting that Mike Harris of the Rio Grande Valley Vipers in the D-League will be called up to take Howard's place. Harris just got back from a stint with RGV's affiliate the Houston Rockets and is widely considered the top call-up prospect in the D-League.
12:45 am: Mike Jones (formerly of the Washington Times Sports) is reporting via Twitter that Flip Saunders has informed him Josh Howard is done for the season after tearing his ACL.
It's a crushing blow for Howard, who recently said he wanted to try and push for the playoffs with a Wizards team that has won two out of three since the massive trades to detonate their core two weeks ago.
Howard was looking forward to a rebirth in Washington, and was playing like a leader, hitting big shots and playing to the potential the Mavericks thought had passed.
Whatever the Wizards have done to offend the Basketball Gods, they are sorry. We're all sorry.
Well, it could be worse, they could…
Yeah, I got nothing.