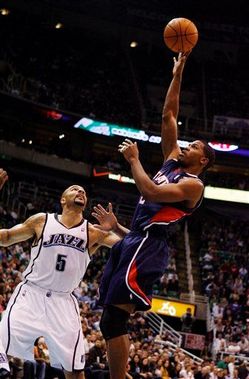 Our game recaps from Monday, or what you missed while bidding on Action Comics No. 1…
Atlanta 105, Utah 100: The last time Atlanta won in Utah? The same year that Dr. Dre released The Chronic. We're talking old school.
The Jazz had all kinds of excuses for this one — no Deron Williams, no Andre Kirilenko, second night of a back-to-back — and they still hung around and made it close. But at the end, with the game on the line, they defended the pick-and-roll poorly and Mike Bibby made them pay with passes to guys deep in the paint. Same thing happened when the Jazz didn't cover some backdoor cuts. You can't give Atlanta shots near the rim, they finish too well. Quality road win for the Atlanta.
Washington 101, Chicago 95: The Wizards are hot — 3-1 since the Caron Butler and Antawn Jamison were shipped out the door. One key reason is Andray Blatche — who has teased with talent at Summer League and in short spurts over the years — has put it together for a stretch of games (he had 25 points and 11 boards). Four games not much of a stretch, you say? It is for Blatche, and the Wizards need the small victories. Also, Al Thornton has become their go-to guy down the stretch, and that is working. Against all odds.
Chicago, on the other hand, just looked lost on offense down the stretch. They don't create or recognize mismatches well, and if Rose is not penetrating get stagnant fast. What they need is a guy who could create his own shot on the wing and just knock down jumpers all night long. A guy like Ben Gordon.
Milwaukee 83, New York 67: Maybe it's not Chris Duhon, maybe it's just something about the position: Sergio Rodriguez gets the start at point for the Knicks and he goes 2 for 8 from the floor with one assist and three turnovers (he did have eight steals). Okay, it is Duhon, let's not kid ourselves. Rodriguez can get better, but for one night he joined every Knick teammate in not shooting well, and it's hard to pick up assists when guys don't make shots. The Knicks shot 33.8% on the night, didn't get to the line much and were useless on the offensive glass. Just ugliness all around.
Tracy McGrady had a team high 15 on 5 of 14 shooting, plus he was limping through parts of the third quarter and clearly in some pain. We'll see if he plays against Boston.
And credit to the Bucks — the smaller Knicks are a team you want to pound inside, and Andrew Bogut had 24 points and 20 boards on the night. This is a team doing things better night after night.
L.A. Clippers 98, Charlotte 94: Charlotte was up by six with 9 minutes left when the Clippers got settled down and made a run thanks to a lineup that included Steve Blake, Travis Outlaw and Drew Gooden — all guys just picked up at the trading deadline. With those three, the Clippers bench outscored the Bobcat bench by a dozen, and was just more efficient. Again, not a pretty game, as highlighted by Stephen Jackson going a painful-to-watch 1 for 16 on the night.
With the Milwaukee win and the Charlotte loss, those two teams are tied for the eighth seed in the East. And the right to get swept by the Cavaliers in the first round.
Dallas 91, Indiana 82: Just an ugly game – the winning team shot 38.6 percent. Plus, the only thing worth watching night in, night out in Indiana is Danny Granger and he was out for personal reasons. So the Mavs keep right on rolling, four in a row now, but you can't take much away from this one.