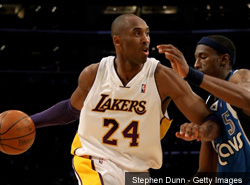 Ranking all 30 NBA teams, even the ones that deserve relegation (if only we had the English soccer system). Everybody at the top of the standings had had a recent loss, so the question becomes, whose loss bothers you the least?
1. Lakers (42-14) They lost to the Celtics at home, but they can play the "we didn't have Kobe" card for that one after the ugliness that was Derek Fishers last shot. Kobe comes back Tuesday, time to see if LA reverts to old, bad habits.
2. Magic (38-19) They drop one to Dallas but the win against Cleveland Sunday was bigger. If Orlando gets that Jameer Nelson to start showing up on a regular basis, the East just got a lot more interesting.
3. Jazz (36-19) They have won four in a row, and showed something coming back from 25 down in Portland Sunday. The Jazz usually have a mid-season hot streak then go cold in March, we'll see if that trend continues.
4. Nuggets (37-19) Denver beats Boston and Cleveland, but loses to Washington in between those wins? Consistency is the hobgoblin of little minds.
5. Cavaliers (43-14) I hear the complaints coming about this one… but they have lost three straight, including to two teams above them. The Cavs will get it right with Jamison soon and start climbing back up, but as of this week they fall.
6. Thunder (33-21) A nine-game winning streak, and Kevin Durant is destined for Mount Olympus. We'd move them up higher, but does anyone think they could beat any of the top five on this list in a seven game series starting tomorrow?
7. Mavericks (35-21) Three straight wins, including an Orlando/Miami back-to-back. Not sure how far the Butler/Haywood trade takes them in the playoffs, but it did energize a slumping team.
8. Celtics (35-19) Great back-to-back wins over the Lakers and Trail Blazers, but the loss to Denver has me still questioning if this team is elite.
9. Suns (34-23) The team just kept playing through the trade
deadline rumors and aftermath, with wins against Memphis and Atlanta.
Very professional team.
10. Hawks (34-20) Losses to Phoenix and Golden State on this road trip — wouldn't you think the Hawks would thrive when forced to run?
11. Raptors (31-24) Good test for Toronto this week — Portland, Cleveland and Oklahoma City. We'll see how real their recent play has been.
12. Spurs (30-21) Two straight losses and now Tony Parker out for a few games. People are drinking away their sorrows on the Riverwalk. (Of course, if they were celebrating they'd be drinking to that, too.)
13. Bulls (29-26) Four straight wins since last week. All against bottom feeders, still, four straight wins. Chicagoans should not look at a gift horse like that.
14. Blazers (33-26) Well they did beat the Clippers this week. And they beat Utah for three quarters. Turns out that's not enough.
15. Heat (29-28) Wade is willing this team to wins and a playoff spot.
16. Bucks (26-28) They have won two in a row, seven of their last 10, and are just one game out of a playoff spot. And John Salmons is going to help them.
17. Bobcats (27-27) The Bobcats better hope if they make the playoffs they don't face New Jersey in the first round — they Nets lead the season series 2-1. Okay, maybe that's not going to be a problem.
18. Hornets (30-26) Daren Collison may be the mid-season fantasy steal of the season.
19. Grizzlies (28-27) They steal Ronnie Brewer from the Jazz, then the fates strike him down with a hamstring injury. Life is not fair.
20. Rockets (28-27) Kevin Martin is 8 for 28 from the floor in his first two games in Houston.
21. Sixers (21-34) Is Jodie Meeks worth a second-round pick?
22. Kings (18-28) Carl Landry is going to be a great fit by the Delta, but this team has lost four in a row.
23 Pistons (20-35) Detroit is actually 5-5 in their last 10 games.
24. Clippers (22-33) The Clippers have gone 2-8 in their last 10, but they have enough cap space to sign LeBron… ha, I know, I just get a laugh every time I type that.
25. Warriors (16-39) When Monta Ellis and Steph Curry are both shooting like they did Sunday, Golden State can topple Atlanta. It's just not a regular occurrence.
26. Pacers (19-36) They still have Troy Murphy to kick around.
27. Wizards (19-34) Al Thornton and Andray Blatche are having good games together. Yea, that will last.
28. Knicks (19-35) The team that may have been the happiest at the trading deadline? The Utah Jazz. They have the Knicks first round pick this summer.
29. Timberwolves (13-34) They have lost six games in a row….
30. Nets (5-51) But no matter how bad the T-wolves are playing I can't take the Nets out of last.