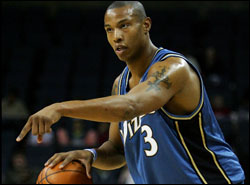 The Dallas Morning News
has a post up today with a transcript of the good-bye letter Caron Butler had published in the
Washington Post
.
Here's the beginning of the letter:
"When you get traded, you don't get time to say goodbye. More important, you don't get the opportunity to say, "Thank you."

Thank you, to some of the best fans in the world. Representing you and representing this city has been an honor I will always cherish."
It's heartwarming to see a player feel the type of connection to a fanbase that Butler feels with Wizards fans. Fans are used to being let down when one of their favorite players switches teams; Butler's letter shows that players sometimes feel the same way. Antawn Jamison gave a similar message to the fans after he was traded, saying "I love them more than they love me."
Even with the Wizards having a year to forget in a lot of ways, it's clear that Jamison and Butler both appreciated the support they received from Wizards fans right up until they were traded.