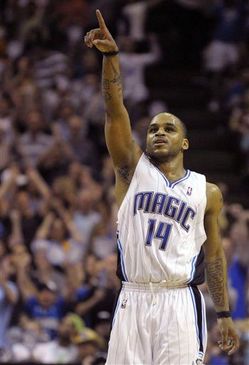 What happened while you were chanting "U-S-A! U-S-A!" (or, for our Canadian brethren, feeling blue)…

Magic 101 Cavs 95: Let today stand as the reminder that the East is still cyclical. At different points this season, Orlando, Boston, and Cleveland have all been declared as the obvious best team in the East, with the Hawks drawing a few dark horse bids. But the Magic now have season series leads over Atlanta and Boston, and cut Cleveland's lead to one.
Jameer Nelson tends to be the lightning rod in the Magic's time-traveling Delorean. If he's hot, this team is at another level. When he's off, they look tremendously pedestrian. With Turkoglu gone and Vince Carter more of a ball-dominator, the point guard position for Orlando is vital to create motion in the half-court offense. Howard and Carter did their damage, but Jameer Nelson had a huge impact in the Magic's win.
Nuggets 114 Celtics 105: A barnburner between two defensive squads. By the way, while everyone here at PBT wishes George Karl a speedy triumph and recovery from his current bout with cancer, there's still a fun game to play when Karl is on the bench.
When J.R. Smith enters the game, count how many times George Karl claps when he does something brilliant, and how many times he facepalms himself when Smith does something inexplicable. Today was one where he got to clap more than facepalm.
Long story short, the Nuggets just kicked the Celtics in the face with big plays, and a fast team on the second night of a back to back (SEGABABA) for Boston was just too much to overcome.
Pistons 109 Spurs 101: Tim Duncan hit a three and the Spurs lost. If that doesn't tell you how crazy this season has been for the Spurs, nothing will.
Rip Hamilton (27 points) apparently was just waiting for the trade deadline to be over, the Spurs used Hack-A-Ben, and it worked, but got blown off the map in overtime. We're past panic time for San Antonio and into "damage control and hope for the best."
Thunder 109 Wolves 104: Durant hit 25+ for the 28th time in a row, including some huge buckets down the stretch.
It's time to start considering Durant-Westbrook-Green as one of the premier three-headed attacks in the league. When the Wolves took the lead in the fourth, Green calmly nailed a three that started the Thunder's game-ensuring run.
The three possess the ability to simply neutralize their opponents. They brought perimeter pressure on Westbrook and he countered with drive and dish to wide open players on his way to a triple double. If you give Durantula an inch, he scores miles and miles. And Green's ability to stretch the defense and defend bigger players makes him a matchup nightmare.
The Wolves were dialed into this one, but when you have so little offense and are leaning on Corey Brewer (even though he's having a fantastic month), you're in trouble. The Thunder were once again too much for an opponent. 
Grizzlies 104 Nets 94: The Nets' versatility in losing is stunning. They should have won this game. Brook Lopez had 17 points in the first quarter, then finished with only nine more. They held a huge lead at the half, and couldn't hold on.
For the Grizzlies, it's this simple. If you get both O.J. Mayo and Rudy Gay over 20 points, they are nigh unstoppable. When Mayo heats up, he gets white hot , and will keep looking to create shots. The Nets, as usual, had no answer to the counter punch.
Rockets 102 Hornets 94: The defense is just not right in Houston. Houston makes a living off of frustrating teams built like the Hornets. Undersized fours like David West. Offensively limited centers like Emeka Okafor. Rookie point guards like Darren Collison. And lately, their defense is just lost. It can't commit, can't decide, and can't execute.
David West's performance and leadership since Chris Paul went down has been exemplary. Darren Collison will get all the attention, because West performs very quietly, but he's been the go-to guy, and has been a veteran leader on the floor. I'm still waiting for the Hornets' shots to dry up, but it doesn't seem to be happening any time soon.
Warriors 108 Hawks 104: The Hawks had many, many things go wrong tonight, but there were two in particular that killed them. They failed to dominate on the glass, even against Stephen Curry (32 points, 9 boards). They won the rebounding battle, but only by three against a bad rebounding team. That's a core value of Atlanta's success.
Second, their ball-movement came to a crashing halt as we've seen before this season. The inability of the coaching staff to program a low-post set has killed them this season. They're somehow afraid of what has gotten them so much success the rest of the games.
Curry's making a Rookie of the Year push.
Suns 104 Kings 88: The Kings just ran out of steam. I've got little else to get to on this one. If the Suns keep their offense in gear and get a defensive effort that holds their opponent under 90? You're going to have a tough time beating them, ever.
Jazz 93, Trail Blazers 89 (OT):  Portland led by 25, at home in the Rose Garden, and Marcus Camby was playing like a man who read all those reports that he can't play defense anymore and was pissed off. Brandon Roy has to ride a stationary bike when out so his hamstring doesn't tighten up, and he still drops 23 points. But it says everything you need to know about the mental makeup of these teams that on Utah's fourth road game in six nights, they battled back and Blazers players coasted. How else do you explain Kyrylo Fesenko taking over for a stretch of the game? Carlos Boozer hit the hard shot to send the game to overtime, and from there everyone knew who was going to win. Another tough loss for the Blazers, another impressive road win for the Jazz.