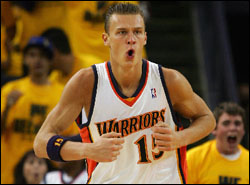 Golden State of Mind
has a post up today which builds on Scott Ostler of
SF Gate's
observation that Andris Biedrins may be on pace for the worst free-throw shooting season of all time:
"Biedrins is 3-for-23 from the line this season. The NBA record low percentage, one season, for a player shooting at least 20 free throws, is held by Garfield Smith, Boston Celtics, 1971-72, shooting 6-for-31 from the line, 19.4 percent. Biedrins is barely better than 13 percent."
That's some incredible futility from the stripe right there. GSoM elaborates on the experience of watching Andris shoot free throws:
"The jumpshot is one of the most fundamental aspects of the game of
basketball and there is nothing fundamentally right about Biedrins'
form. If you've never seen Biedrins shoot a free throw, then don't."
After all these years in the league, it is still not pretty to watch Andris Biedrins shoot free throws. Biedrins is a great athlete and can rebound, block shots, and finish at the rim with the best of them, but his free throws may have become a crippling weakness. Despite all the Warriors must have tried to help Biedrins add some basic skills to his athletic talents, he has shown zero improvements in those areas during his years in the league. According to Matt Steinmetz, Biedrins rejected the help of a shooting coach earlier this year.
Biedrins' free throw shooting is simply unheard of from an NBA player. It's clearly impacting the rest of his game; why wouldn't you put Biedrins on the line whenever possible? In my opinion, if Biedrins doesn't improve from the stripe soon, he owes it to the fans to at least try shooting them underhanded.