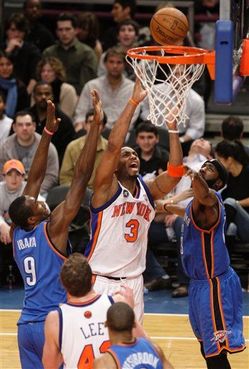 Tracy McGrady looked like hadn't lost a step despite only playing in nine games prior to tonight… well, almost.
Donnie Walsh looked like he might be sheer genius in the debut of the revamped Knicks lineup… well, almost.
And the New York Knicks beat the Oklahoma City Thunder…well, almost.
There will be plenty of time to talk about Kevin Durant's streak of 25+ games (27 and counting), the Thunder's incredible poise, and the significance of Sam Presti's decision not to interfere with the chemistry of the young squad.
But we'd be remiss if we didn't chronicle the work of McGrady tonight. The return of TMac.
The boxscore itself is not enough to appreciate what McGrady did tonight. Though the Knicks' pace is down significantly this year from previous runs and guns, there's still an inherent swell to the statsheet when you operate under Mike D'Antoni's guises. So 26 points in 32 minutes, 4 rebounds, 5 assists, and a steal is impressive, but not unbelievable. It's very possible to put that line in a quiet way under 7 Seconds or Less.
It was not a quiet line.
McGrady wasn't the same McGrady we've seen the last few years. He was the McGrady we were promised by the former prodigy, attacking the basket, draining threes, making steals, handling the ball in key situations, and generally playing like a king. Or a Knickerbocker of old.
McGrady has settled for inside-the-arc jumpshots, the death of effiiciency for years, as his body wore down. But tonight he attacked the basket, drawing contact, following misses, and being hyper aggressive, rather than passively shooting whatever the defense granted him. There were a fair amount of "inefficient" shots, to be sure, the 16-23 foot jumpers that were part of what frustrated the efficiency-obsessed Rockets. But McGrady countered it with aggressiveness and creating opportunities for his teammates.
McGrady definitely seemed to tire as the game went on, his first in months, and he sat the entire overtime period when he was needed. But tonight serves as notice that even though he may not be 100%, the old Tracy McGrady, the one that drove fear into the hearts of men, still exists, and we may be seeing more of him for the rest of the season.