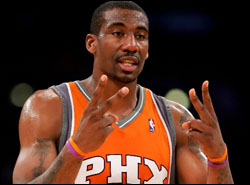 While standing in the swirling vortex of the trade deadline, Amar'e Stoudemire was nothing but professional — said all the right things off the court, on it he kept catching Steve Nash passes and throwing them down like nothing ever happened.
So where does he go from here? A trade might be nice, but what he really wants is a contract extension. Even with the Suns.
Stoudemire said negotiating an extension with the Suns remains possible. He turned down an offer for two years beyond next season's option year.

"Obviously, I want to have a sense of security," he said. "We haven't got to an agreement yet, but we're getting there."
Stoudemire is due $17.5 million next year and it's his choice on the option. He has hinted he may take that option, because he realizes that in this economy he is going to take a pay cut of a few million if he plays the open market.
But then there's that pesky little security issue. If he takes his option year, he runs the risk of being a free agent in 2011, when the new Collective Bargaining Agreement could mean a much lower max (or high end) contract. Not ideal. If he opts out of his current deal this summer he can get a multi-year deal locked in at what could be a higher rate (no way the Players Association lets the new CBA change existing contracts, no matter what the owners fantasize about).
What's ideal for Stoudemire as an extension of his current deal. The Suns may not be offering as much as he wants right now — they may never — but if he is traded somewhere this summer an extension will likely be part of the deal for him.