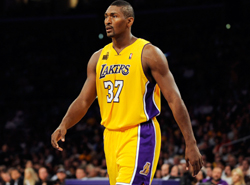 On a breakaway dunk against the Celtics, Ron Artest got as much elevation as I have seen him have since he came to Los Angeles. Nobody is ever going to confuse him with Josh Smith or Vince Carter circa 2002, but with foot problems this season Artest's vertical had gotten to the point one wondered if he could dunk anymore.
After the game, sitting with his feet in a bucket of ice, I asked Artest about his elevation and condition, and he credited weight loss.
"I feel alright. It's been tough on me a little bit because I've been trying to lose weight and do it during the season," Artest said. "When I first played I used to play at 260 – 268 and I was good at that weight. But I'm getting older now and I don't think I want to play at 260 to 270 anymore.
"I can get down. Luckily for me I'm able to. If I play at 270 I'm going to have no fat. I'm going to play at 250, I can get down to 250. The good thing about me at 250 is heavy, but I feel light. The other guys, at 230, 235 they probably feel heavy and out of shape. My 250 is light. My 260 is light also."
So like middle aged house wives everywhere, Artest is trying to drop a few pounds. However, he's doing it to take some pressure off his feet, not to work off that extra Valentine's Day candy. He said he's getting his weight down by running for about 45 minutes after games. You know, exercise, the stuff left out of mass marketed diets aimed at middle aged women.
The important thing is, so far it seems to be working for Artest on the court.