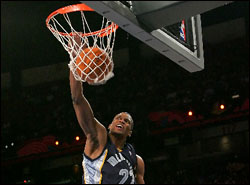 Someone is going to get very overpaid in this summer's free agent market.
Not LeBron James, Dwyane Wade or Chris Bosh — those are guys who deserve max contracts (which will be about $16 million the first year, depending on factors with the salary cap not yet determined). And they will have choices on where they want to play because at least eight teams spent the last few weeks clearing out all sports of cap space so they could offer a max contract this summer.
But there are not eight free agents this summer worthy of max money, and that's where the problem lies. There are eight fan bases that have high hopes and expectations — and eight general managers feeling enormous pressure to make something happen.
Let's play a hypothetical: LeBron decides to re-sign with Cleveland this summer to start, then Chris Bosh decides he wants to play with Derek Rose in Chicago and takes their max-salary slot. Then Dwyane Wade decides to stay in Miami after the Heat finally swing an Amare Stoudemire trade.
What is Donnie Walsh going to do in New York? What is Mike Dunleavy going to do with the Clippers? Rod Thorn with the Nets? They will all be under pressure, and so they will get in a bidding war over the second tier of players. Suddenly everybody wants Joe Johnson and he is being offered a max or near max deal. Same with Rudy Gay. Both very good players that can be good fits with others around them. Neither max players.
A smart general manager may try to hold on to that space until the following free agent class the next summer, which is deep as well. Plus, with the new Collective Bargaining Agreement coming the financial rules for teams is changing, some may want to wait.
But that is a hard sell to fans, that you just gutted their team for cap space and now you are going to sit on it for a year. There will be an outcry.
Which means someone is going to get very overpaid this summer.