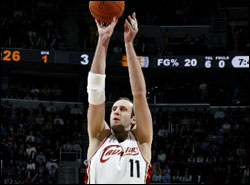 Cavaliers center Zydrunas Ilgauskas has spoken his mind on his trade from basketball nirvana in Cleveland to… well, the Wizards. And he's not happy.
He basically equates being with the Wizards with being in prison, and he wants his buyout/get-out-of-jail-free card soon.
"Right now I'm a Wizard," he said. "I think eventually they'll let me go, but that's just my guess. They haven't told me anything yet. First I've got to go to Washington, and hopefully after a couple of days they'll let me go home…"

If that happens, Ilgauskas will have several options. He admits a number of teams have called his agent, Herb Rudoy… Ilgauskas wouldn't say for sure he'd be back, but he wouldn't rule it out, either, in spite of the fact that there were some hurt feelings earlier this season when coach Mike Brown didn't play Ilgauskas in the game that would have given him the franchise record for games played. He did get the record in the next game.

"We'll figure things out," he said. "I'll do what's best for my family."
What is that code for? You're not getting me cheap. He says his heart is in Cleveland and he wants to return, but if somebody else offers a lot more money, we'll see.