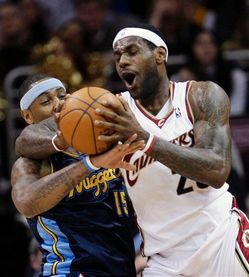 Our game recaps from Thursday, or what you missed while sleeping off your trade deadline hangover.
Denver 118, Cleveland 116 (OT) Damn, that was fun.  If you did miss it, I don't know what to tell you, but sorry. It's exactly what you want in a game to watch — close, back and forth, with the best players for each team matched up on each other. Carmelo Anthony and LeBron James mano-a-mano. As God intended.
LeBron could not be stopped, he had 43, with 15 assists and 13 rebounds and he was getting to the rim like the beast he is (he was only 3 of 15 from outside 10 feet). Carmelo Anthony had 40 — and the game winner with 1.9 seconds left in overtime. On a contested 21-footer. That's a hard shot, but that's the shot great players hit.
The Cavaliers were reminded why they did not want to trade JJ Hickson tonight, but speaking of trades they did miss Big Z tonight, especially since no Jamison in yet to take his place. Mo Williams was back but he looked rusty (however had a couple nice threes.
Boston 87, Los Angeles Lakers 86 This was the first game where the Lakers really missed Kobe. And we're not talking about that ugly last shot by Derek Fisher… well, yes we are, Kobe can create his own shot in a way Fisher never could. Kobe hit the game winner in Boston.
Where the Lakers really missed Kobe was on defense — Ray Allen was a non-factor in the first meeting between these teams because of Kobe's defense. The Lakers started with Fisher on Allen and he got hot just shooting over the top of him, and once Allen gets hot he's hard to stop even now. He had 24 on 10 of 15 from the floor. Doc Rivers joked after the game they should threaten to trade him every week.
The other spot the Lakers missed Kobe was early, when Boston raced out to an 11-2 lead. Those kind of runs is when Kobe will take the ball and take some shots, get his team a few points and settle things down. The Lakers didn't settle down fast early, and they did not settle down late.
For the Celtics, that is a very good road win. They reminded you that in a game called like a playoff game — the refs let them bang, especially in the second half — they are at home. This is still a team really built for the playoffs, not the regular season. Health remains the key issue, but they remind you that they are a contender for a reason.