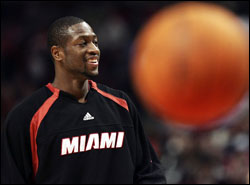 The signs have already been constructed just outside of LaGuardia, O'Hare and LAX, the ones with the picture of Dwyane Wade and the word: "Welcome!"
Because of that, the Heat will utilize JFK, Midway and Burbank the balance of the season.
Make no mistake, Dwyane Wade has become the ultimate bull's eye of 2010 free agency.
For the Knicks, it is part of a dream scheme to pair him with LeBron James or Chris Bosh. For the Bulls, it is part of the type of homecoming that doesn't include a fawning Rick Reilly. For the Clippers, it is a vision of making him the Kobe of Staples' lesser lessee.
What New York, Chicago and Los Angeles accomplished at the trading deadline had nothing to do with their current 2009-10 realities. The Knicks' playoff hopes already were dashed. Chicago clearly has downgraded itself from the team that threw such a scare at the Celtics during last season's first round. And the Clippers were done as soon as Blake Griffin's rookie season failed to get started.
But by creating enough space for the likes of Wade, the ultimate recruiting tour is about to begin. Word is John Calipari already is being lured as a consultant in New York, Chicago and Los Angeles, a relatively low-risk proposition since the Knicks, Bulls and Clippers have nothing of note to vacate.
The measurement of any trading deadline is a team accomplishing its preset goal.
For the Knicks, that was losing Jared Jeffries' $6.9 million from its 2010-11 books. Done, albeit not until after some haggling with the Rockets and a third-party entrance by the Kings.
For the Bulls, it was eliminating any chance that John Salmons would invoke his $5.8 million option for next season.
For the Clippers, it was offloading Al Thornton and Sebastian Telfair to open the type of max slot that nearly netted Kobe a few years back.
At the start of the process, LeBron James was the ultimate target.
But as a result of the trade deadline, LeBron now has his own dream team.
The Knicks could do far worse than Wade and Bosh. The Bulls have the hometown allure for the family conscious Wade. And there are fates far worse than half the Los Angeles market and enticement of playing alongside Baron Davis, Chris Kaman and Griffin.
New York. Chicago. Los Angeles.
Each long has been a destination of choice.
Now, each also has a money trail.
 Keeping Dwyane Wade grounded figures to be the ultimate challenge for the Heat.
Ira Winderman writes regularly for NBCSports.com and covers the Heat and the NBA for the South Florida Sun-Sentinel.