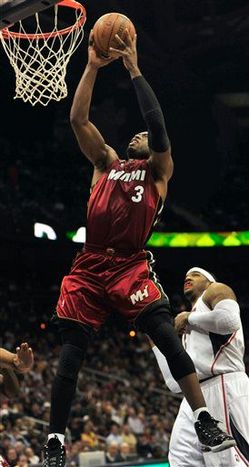 It has all been about the summer of 2010. While some of the trades that went down yesterday — or will go down today — were about this season, for the most part teams and general managers were looking ahead to the summer spending spree. Even the Cavaliers getting Antawn Jamison was as much about making LeBron James stay put this summer as it was winning a title this year.
But even if LeBron stays there will be Dwyane Wade, Chris Bosh, Joe Johnson and a host of other quality players on the market for those that want to spend lavishly in a down economy.
And who has the dough to spend?
As of right now, that list starts with the New York Knicks, who can spend enough for about two max-contracts — that would mean LeBron and Bosh, or Wade and Bosh, or Wade and Johnson, or… you get the idea. They dream big in the Big Apple. They have a player-friendly coach playing a fun style on the biggest stage in the world, that has to be tempting, right? Ignore the rest of the roster, think about the potential is the pitch.
Then there is the Miami Heat, who can re-sign Wade and still bring in one more huge contract. So rather than move Wade to another city, why not bring Bosh or Johnson to Miami to join Wade in South Beach. Add in the fact Florida has no state income tax and that becomes a tempting destination.
The Chicago Bulls are making sort of the same pitch with their room for a max contract — come play along side Derrick Rose. A Rose/Bosh tandem with quality role players around them (several of which are in place) and you are instantly on a contending team that will win right away.
The other teams may have cap space but does any big name really want to play for them? The New Jersey Nets, Los Angeles Clippers and Sacramento Kings have the room to make big offers, but he ownership and franchise situations cannot be appealing. The Nets are changing owners and will be playing in New Jersey but moving to Brooklyn in a couple years, leaving them in sort of a limbo. Sacramento's owners want to move their team as well (although the latest stadium proposal there shows promise). The Clippers actually have a decent roster — Baron Davis, Chris Kaman, Blake Griffin — but have an owner nobody trusts. Plus, playing for the Clippers means always being in the shadow of the Lakers (LA is a Lakers town) and Kobe Bryant.
Other teams will try to get themselves in position for a crowded marketplace this summer as well before the trade deadline today.