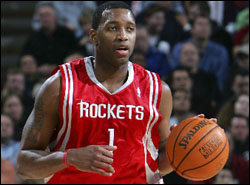 A lot of the big shoes dropped yesterday — Antawn Jamison going to Cleveland was the size 16 shoe of those moves — but there are still some trades hanging in the balance. What could happen?
The Knicks could get Tracy McGrady. The Rockets and Kings have a deal that sends McGrady, hard-working Carl Landry and Joey Dorsey to the Kings for sharp-shooter (at least before this season) Kevin Martin, Sergio Rodriguez, Hilton Armstrong and the ugly contract that is Kenny Thomas.
But that is not what McGrady's agent, Arn Tellum, had in mind. He was picturing the bright lights of Madison Square Garden, and that could still happen. That two team deal could expand to bring in a third team deal that includes the Knicks. The scenario would likely involve Rodriguez and McGrady going to New York, and Jared Jeffries heading out. However, who would get him and who else would be involved is still being negotiated.
If the three team deal does not work, the two-team deal will go forward.
The Heat could get Amar'e Stoudemire. The trade to get Jamison in Cleveland was as much — or more — about making LeBron James happy and getting him to re-sign as it was about winning a title this year (although they could get both).
Miami has one of those frustrated free-agent-to-be stars in Dwyane Wade, and keeping him happy is why they may make a move. Stoudemire, with his tremendous athleticism and versatile offensive game, would be a good fit and add an offensive spark to the Heat. But, the nagging question is what Miami would give up. Second year forward Michael Beasley has been mentioned, but the deal is going to need a lot more than that.
There have been rumors that the Heat don't want to make a big move, that the interest in Amar'e was simply to placate Wade. The Heat may be focused more on the free agent class this summer to bring help to Wade than right now. Stoudemire said he doesn't think he's going anywhere. But, stranger things have happened. Like Ray Romano having a hit show.
The Heat could trade Dorell Wright. This would be all about the cash — right now the Heat are just a hair over the luxury tax threshold. If they don't go big with Stoudemire, they may want to go small and trade Dorell Wright and his $2.75 million expiring contract just to save the tax money.
Possible trading partners (those under the tax or with a trade exception they would use) are the Grizzlies, Wizards (after all their recent moves), the Nets and the Clippers. Those teams may want more than just Wright to make this happen (a second round draft pick, for example).
The Bulls could trade Tyrus Thomas/Kirk Hinrich. Chicago is still looking for anyone who wants Tyrus Thomas, in part for cap reasons and in part because he and Coach Vinny just don't get along. They will listen to offers if a team wants to take on a very talented, not always so focused forward.
The Bulls showcased Kirk Hinrich last night, giving him 40 minutes on the court, and he had 10 points on 5 of 14 shooting. Since Chicago moved John Salmons, they may not be as inclined to find a deal, however Hinrich is owed $17 million over the next two seasons, and that is a lot of money. One possible rumored destination was the Lakers, but the defending champions said they likely would not be making any moves.
Nate Robinson deal finalized. While the news the Knicks and Celtics were close to a deal to send Nate Robinson to the Celtics to backup Rajon Rondo are true, the deal has yet to be finalized and get a thumbs up from the league office. We will see what the final details of this deal look like.
Indiana tries to trade Troy Murphy. It's the hottest thing in the NBA — doesn't everybody want a stretch four? Doesn't everyone just like to say stretch four? Murphy is probably the best available at the deadline, and Indiana would love to be involved in talks where they are not just being used as leverage.
Golden State could trade Corey Maggette. Anywhere. Golden State would love to unload Corey Maggette's deal, which goes three seasons after this one, starting at $9.6 million and climbing to $10.9 million. Maggettee is the perfect scorer/sixth man, and gets to the line with the best of them, but plays poor team defense and is not a good passer. Which is to say he is overpaid. Golden State is going to have a hard time moving this contract, but they will try.
The Spurs could move Antonio McDyess. Frankly, what the Spurs would like to do is move Richard Jefferson's deal, but if all the other GMs are sober today nobody is taking that deal on. A lesser option being thrown around is to move Antonio McDyess. That would not be a surprise.
Charlotte could trade DJ Augustin. The Bobcats are shopping around second year point guard DJ Augustin. The former University of Texas player is still on his rookie deal, which is affordable, if someone is looking for a backup point guard. The Bobcats want a power forward in return.
Memphis could add depth. The Grizzlies like their team and will not be making major tweaks that could change future prospects, but they would like a little more depth. Discussion of all reasonably priced bench players welcome.