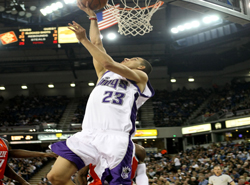 After flirting with the New York Knicks and the Chicago Bulls, Houston Rockets general manager Daryl Morey has finally capitalized on the expiring contract of Tracy McGrady. The deal is hardly concrete, but an agreement has been made in principle between the Kings and the Rockets according to ESPN.com's Marc Stein, though the Knicks could still become a part of the deal as well (something that seems more and more likely as the night wears on). As it stands however, the Rockets will send McGrady, Carl Landry, Joey Dorsey, and cash considerations to Sacramento for Kevin Martin, Kenny Thomas (woof), Sergio Rodriguez, and Hilton Armstrong.
Even though seven-time All-Star and former scoring champ Tracy McGrady is the biggest name of the bunch, he hardly has the biggest game; Kevin Martin is capable of being one of the league's most efficient scorers, as his ability to hit shots and draw fouls make him valuable to any offense. He should fit in beautifully with a Rockets team that relies too heavily on Aaron Brooks and Trevor Ariza for shot creation, though the defensively-challenged Martin is a bit atypical on a roster of hard-working defenders.
But Houston will certainly miss Carl Landry's top-notch production from inside, and Sacramento will be reaping all the benefits. Having a big man rotation of Landry, Jason Thompson, and Spencer Hawes gives the Kings a young, versatile bunch to build around, and each brings something unique to the table.  Sacramento also clears out a significant long-term contract by trading away Martin, which opens the window for the Kings to be a major player in this summer's free agent market. The Kings' final salary commitments depend on which pieces go where in this deal (and New York's possible involvement could swing things by a few million either way), but as it stands, Sacramento will have plenty of financial flexibility going forward.