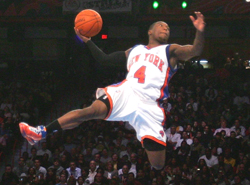 2/18 2:06 pm: The details of this trade seem to finally be finalized. According to Hahn, the deal is Nate Robinson and Marcus Landry to Boston for Eddie House, JR Giddens and Bill Walker. There are no picks involved. The Knicks will waive just acquired Brian Cardinal to make room.
With this, the Knicks have about $32 million in cap space this summer.
2/17 2:20 pm: Alan Hahn, the Knicks beat writer for Newsday, says said the deal is done — the Celtics get Nate Robinson. Adrian Wojnarowski from Yahoo says it's not yet official, but it will be soon.
"D'Antoni wants House, and (Boston) really wants Nate, so everyone is motivated here," one source told Y! Sports.
The details of the deal are Eddie House heading to New York for the remainder of this year, plus a second round pick and another player from the end of the bench, for Robinson (that has yet to be finalized and the Celtics may have to throw in a scrub as well, however). The trade is not a surprise, and while the Lakers may have dipped their toes in the water, Robinson was basically always bound for the Celtics.
For Boston, it means they get a backup point guard behind Rajon Rondo — a spot that was a need. Whether Robinson will be a good fit with the defense-first system in Boston remains to be seen, and his shot selection will drive the Celtics faithful nuts, but he can create his own shot far better than House and he will score for Boston, and they need that. However, don't underestimate the loss of Eddie House and his ability to hit threes under pressure, his smooth stroke could be missed in the playoffs.. (Robinson's outside shot is far less consistent.)
For the Knicks, they get a better outside shooter in the short term (picture house spotting up on the break), but it is really about saving money. However it is a meaningless deal in the money sense if the trade with Houston for Tracy McGrady for Jared Jeffries, whose salary hangs over the Knicks for next season.