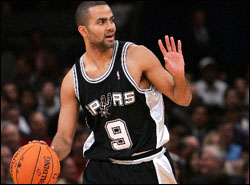 Tony Parker has battled plantar fasciitis this year, a condition which is, to be honest, painful as all get-out. It hasn't affected his speed, nor his patented dribble-hesitation as much as it has his focus and his jump shot. Then again, you also have to factor in how much of his game has been impacted by the sheer wear and tear on his body. Parker has played in the playoffs every year, significant minutes, and played for the French National Team every year.
But surely this season, with all his myriad injuries, regardless of where the Spurs come out in the playoffs, he'll be taking the year off, right?
Not so much.
Spurs blog 48 Minutes of Hell talked to Parker after last night's game and discovered that he's planning on playing for the French National Team again this year.
When the Spurs were in talks to make some sort of trade to shake up this roster, I spoke with Graydon Gordian, one of 48 Minutes of Hell's senior writers about Parker and was shocked that he considered the former Finals MVP tradeable. But in Gordian's mind, the mileage has stacked up on Parker to the point where you have to consider his long-term value to the club. His apparent lack of consideration for his own physical and mental limits also has to factor into that decision.
Parker is burning himself at both ends, the summer flame and winter wick.