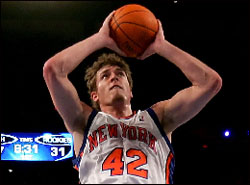 The Knicks are trying to shoehorn their way into the Sacramento/Houston swap of Tracy McGrady and Kevin Martin. Sacramento has no real reason to do allow this unless they get something they really want out of it.
Like David Lee, according to the Sacramento Bee's fantastic Sam Amick.
And that request marks the official start of the ludicrous request part of Trade Deadline Day. There are so, so many things wrong with this. First, David Lee would have to agree to the deal, which would mean waiving his Bird Rights (the rights of his current team to resign him at a rate that would put the team above the salary cap). I don't care how many Bloody Marys David Lee's agent had at breakfast this morning, there is no way he's allowing that.
Plus, would you rather be a young, rich, single celebrity in New York or Sacramento? Exactly.
I'm sure Sacramento loves the idea of pairing Lee with Tyreke Evans (and Carl Landry along the front line). They may like Lee more than Mike D'Antoni. But that is very different than the Knicks actually agreeing to trade him.
It took just a couple minutes for the people in NY to stop laughing and say no to this part of the deal.
However, the overall negotiations continue as the Knicks desperately try to move Jared Jeffries and his contract off their roster. But not at the expense of Lee.