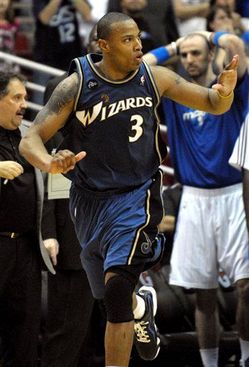 In practice, the winners and losers at this trade deadline will be determined in the playoffs, the summer free agent market and this and future drafts.
But we're not that patient, either. Enter Ira Winderman, who gave out medals to the winners. The gold goes to a few teams, including the Dallas Mavericks.
It's not that Caron Butler is a clearly superior talent to Josh Howard. He's not. It's that Butler is far more reliable, and in the midst of another competitive Western Conference playoff race, that's particularly meaningful.

Just as significant was the Mavericks' acquisition of Brendan Haywood in the trade with the Wizards, which not only upgrades Dallas in the middle, but also adds more fouls to play with.
Those fouls will come in handy when the Mavericks take on the big front line of the Lakers or the physical play of the Nuggets.
Winderman also gave gold medals to the Cavaliers (well, duh), the Portland Trail Blazers and the cap-clearing Knicks. He's got silver (the Clippers, when was the last time they were winners) and bronze medalists.
Then there are the teams that won lead for their performances. I won't spoil the surprise, but he doesn't think teams trying to sell new arenas to a community should be selling off assets.