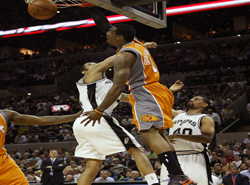 UPDATE 3:15 PM:
Steve Kerr went on NBATV and said that he and Suns management were "relieved" that no deal came together and that the offers to them "just weren't good enough." He added that they want to win now but also build for the future at the same time.
"We've been kinda rebuilding on the fly here trying to develop our young guys… So we've got a good core of players that we think can really grow together. But on the personnel side, we're going to need a playmaker on the wing. A big time two/three type player here in the coming years. We're going to be a big free agent player in 2011."
UPDATE 3:07 PM: Ford reports that no deal is going down, and Kerr will sit down for dinner with Stoudemire and his agent to attempt to calm things down. Oh, to be a fly on the wall for that one. 
ORIGINAL
: Well, don't accuse the Miami Heat of giving up on a trade without a fight. With only minutes remaining until the deadline, Chad Ford
just tweeted
that Miami is making a (literally) last-minute push for the big man. 
This one is coming right down to the wire. Let's see how it turns out.