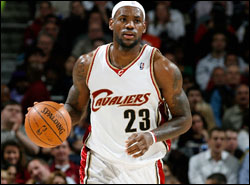 If LeBron James bolts Cleveland in the offseason, it won't be for a lack of effort by Danny Ferry.
First Mo Williams. Then Shaquille O'Neal. Now Antawn Jamison.
There simply is not much more the Cavaliers could have done for LeBron, a-damn-the-expense approach that has constructed a supporting cast that now rivals what Kobe is enjoying on the opposite coast.
Yes, Amare Stoudemire might have been the sexier target. But that also would have delivered baggage to Quicken Loans Arena, no matter what Amare and Shaq have been saying.
Instead, one of the league's truly good guys, a player who deserved an escape from Washington, bolsters what now stands as one of the most versatile power rotations in the league.
The power of Shaq.
The hustle of Varejao.
The uncanny stylings of Jamison (no one plays the angles better).
And, well, what do you know, J.J. Hickson is still there, as well.
(And don't be surprised if Ilgausksas yet reappears, following the NBA's mandatory 30-day no-return policy.)
While this might not be on the level of the Lakers' heist of Pau, it sure comes close.
Cleveland barely surrendered anything. In fact, it could be argued that the Lakers gave up more in the Pau deal, with Marc Gasol coming into his own in Memphis, than what Cleveland surrendered Wednesday.
When the trade-deadline scorecards are tallied Thursday, Cleveland figures to stand at the same place where it resides in the standings, at the top.
Ferry played the Stoudemire game expertly.
Then he trumped the expectations.
The King now has the Eastern Conference's ultimate court at his disposal.
Ira Winderman writes regularly for NBCSports.com and covers the Heat and the NBA for the South Florida Sun-Sentinel.