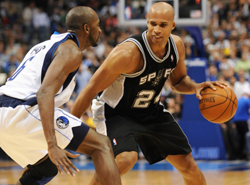 Well, the Richard Jefferson to the Spurs experiment seems to have fizzled out. Officially. Everyone pretty much knew it was dead a couple months ago. But now we have proof.
Displeased with the way he has fit into their system, the San Antonio Spurs are attempting to trade forward Richard Jefferson just days before the trade deadline, multiple league sources have confirmed.

However, because of Jefferson's lack of production this season, as well as his $14.2 million salary, it does not seem likely the Spurs are going to find any takers.
Really? Nobody wants to take on $15 million in salary next year for a guy whose production dropped dramatically this year? Couldn't have seen that coming.
Jefferson's shooting percentage numbers are pretty similar to last year (except from three, which dropped from 39.7% to 35.4%). What has dropped are his shot attempts (especially at the rim) as he has struggled to find his way fitting in with Tony Parker, Tim Duncan and Manu Ginobili. Jefferson is giving the Spurs 14 points a game, but he is using 11.5 shots to get that.
General manager R.C. Buford did roll the dice on this one, giving up Frabrico Oberto, Kurt Thomas and Bruce Bowen to get Jefferson. But he had to do something — the Spurs as constructed were not going to beat the Nuggets, let alone the Lakers, in the playoffs. They needed to do something to open the championship window again. On paper Jefferson seemed a good idea.
In practice, the Spurs are wasting a throwback year from Duncan. And no move at the deadline is likely to change that.