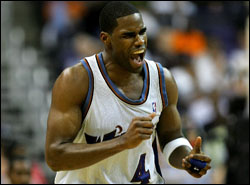 Update 11:43 p.m. The deal is complete. Gooden is expected to be bought out, Ilgauskas' agent says he will pursue a buyout as well. Here's video of Jamison's exit from Washington.
7:11 p.m. The Cavaliers side talks with the Wizards about Antawn Jamison were supposed to be the fallback plan for if the Amare Stoudemire talks did not work out.
Turns out, they were plan "A."
The Cavaliers are about to complete a three-team trade that will bring Jamison to the Cavaliers, as well as backup point guard Sebastian Telfair. In the deal, the Los Angeles Clippers will get forward Drew Gooden, and the Wizards will get Zydrunas Ilgauskas, Al Thornton and Cleveland's first-round pick.
That likely means that Stoudemire will go to the Heat before the deadline tomorrow, in a deal that includes Michael Beasley and a draft pick that the Suns have wanted, among other parts.
Jamison is the stretch four that the Cavaliers have wanted — a big man who can also play inside but also out on the perimeter. Jamison shoots a respectable 38 percent from 16-feet out to the three point line and 35 percent from three, and he is comfortable out there taking eight shots a game from those ranges combined. He also is good in the post and while not a great defender, he is solid.
The Cavaliers may also get Ilgauskas back — the Wizards are reportedly thinking over buying the center out of his contract, making Ilgauskas a free agent. If he waits 30 days after that, he can re-sign with the Cavaliers.
The Clippers get out from under two contracts they didn't like and get to rent Drew Gooden until the end of the year, and they clear $5.5 million off next year's books.
The Wizards get a lot of parts, including Ilgauskas who can help them now, and Thornton, who can frustrate fans in DC like he did in LA with his decision making. But it starts the rebuilding process for the Wizards.