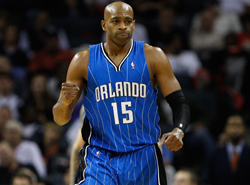 Zach Lowe of CelticsHub has made an "All-Star Team" of the league's biggest disappointments at the break. The stars of the team are in the backcourt, with Devin Harris and Vince Carter getting the starting spots at the one and the two. Lowe says the following regarding Carter: 
"You know what bugs me about Vince the most? Why are his assists down, both in raw numbers (assists per game) and assist rate (the percentage of Orlando baskets Vince assists on while on the floor)? I understand he's not the point guard, but he wasn't last year in New Jersey, either, and he's handling the ball about as much this season as last.
And he's handling it in an offense designed (at times) to make him its primary distributor in crunch time. So why is he averaging just 3.3 assists per 36 minute (down from 4.6 last season and the lowest number since his rookie season) and assisting on just 16.7 percent of Magic hoops while he's on the court (a career low and down from 23.7 percent last season)?"
Josh Howard, Boris Diaw, and Mehmet Okur round out the starting lineup. Notables on the bench include Caron Butler, Richard Jefferson, Tyson Chandler, and Trevor Ariza. On a year-to-year basis, NBA players are generally more consistent than their peers in baseball and football. What makes evaluating basketball players so interesting is how their play can be impacted by the team or system they play in. There was no way to predict that Vince Carter would get less assists going from one of the league's worst teams to one of its best, but that's what happened. NBA GMs try to do the best they can, but disappointments like the ones on Zach's list are inevitable in any pro sport.