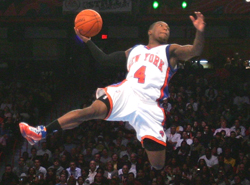 The dunk champ may be getting himself new digs.
The New York Daily News is reporting that the Celtics and Knicks have entered talks to trade Nate Robinson to the Celtics. Terms of the proposed deal were not reported.
Robinson signed a one year deal in the offseason, which provides him the equivalent of a no-trade clause. He has reportedly informed the Knicks he'd only approve a trade to a contender, with the Celtics being one of the teams he would approve.
Trading for Robinson would give the Celtics a true backup point guard which means they would be able to use Marquis Daniels where he's best, at the wing, and not allow Eddie House to run the offense ever, ever, ever.
The Knicks would (gasp) be looking for more cap relief from the deal.