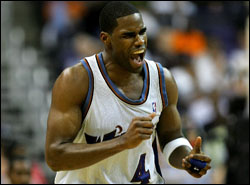 Adrian Wojnarowski, the lord of the trade rumor, tweeted that the Cavaliers are stepping up their pursuit of Washington forward Antawn Jamison. The big trade story of the week has been the Cavs' attempt to acquire Amar'e Stoudemire. With Miami reportedly stepping up their efforts to get Stoudemire and Phoenix unsure of what J.J. Hickson can do for them, the Cavs may now be looking at alternative options. 
The Cavs have long been coveting Jamison, who could provide veteran savvy, scoring punch, and the ability to knock down long jumpers. The issue with getting a deal done appears to be that the Wizards want talent, namely Hickson, in return for Jamison. The Cavs appear to only be willing to move the 21-year old forward in a deal for Stoudemire, and want the Wizards to give Jamison up for financial reasons only. 
The Cavs are also skeptical of whether or not the Wizards would buy out Zydrunas Ilgauskas, and were rumored to be looking for a third team to facilitate the deal earlier in the trade season. Jamison would be a nice pick-up for the Cavaliers, but would clearly be a consolation prize to Stoudemire. Jamison is a crafty scorer, especially around the rim. But while Jamison is capable of hitting outside shots, his accuracy from outside the paint leaves something to be desired.
According to HoopData
, Jamison makes less than 40% of his shots from midrange, and his 34.5% mark on three-pointers isn't setting the world on fire. The theory is that Jamison would get easier looks playing next to James and O'Neal, but 100% of his three-point attempts are assisted already. 
The 33-year old Jamison is also older than Stoudemire, and less likely to become part of a "core" that could entice LeBron James to stay regardless of the Cavaliers' postseason success this year. 
While Hickson's play has definitely improved in recent weeks, Jamison would likely represent a short-term upgrade as a starting power forward. The question for the Cavaliers is how much they're willing to give up to get that upgrade, and if GM Danny Ferry wouldn't be better served by taking an "all or nothing" stance as the deadline approaches.