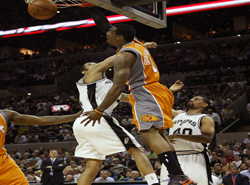 In addition to adding talent and winning a title this year, part of the goal in Cleveland making a big trade to get Amar'e Stoudemire is to make LeBron James happy. Frankly, pretty much every decision made in Cleveland in the last few years has been about making LeBron happy.
LeBron wants Stoudemire in whatever of the 14 throwback jerseys Cleveland wears on any given night, so ESPN's Chris Broussard made the next step:
"This would all but seal the deal in terms of (LeBron) resigning with Cleveland. And again that is a huge motivating factor for the Cavaliers."
It might very well keep LeBron in town. However, Stoudemire has an opt-out at the end of this season, so the Cavs would likely want an extension, or at least a guarantee he wouldn't bolt this summer. Especially since Stoudemire has said he wants to play somewhere warm. Like Miami, which also has Dwyane Wade and money to spend (and no state income tax).
Stoudemire has hinted he will not opt out this summer, which may be wise as owners in tough economic times are not likely to match the $17.7 million he is already scheduled to make next year. But even if he stays with his contract he is a free agent in 2011 and may not stay in Cleveland (although playing alongside LeBron, and maybe winning a title, might incline a person to stay).
All of which is to say, there are a lot more moving parts in this deal than just what LeBron wants.