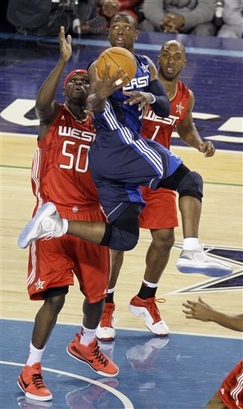 The NBA got what it wanted — more people than ever watched a basketball  game live, setting a new world's record in the new Cowboy's Stadium. Sure, a bunch of the 108,713 people basically watched the game on the world's largest television, but it's a really cool television so the record stands. And will stand, at least until the Final Four comes there in a few years.
Those fans also got an entertaining, competitive game. Yes, a competitive All-Star game. One worth watching. Tied several times in the last minute all the way down to five seconds left. The East pulled it out, 141-139.
Dwyane Wade was your MVP, with a game-high 28 points, 11 assists, six rebounds and five steals. Why does he always seem to have his best games when it's supposed to be Dirk Nowitzki's night?
This is the rare All-Star Game recap where one can actually write about the game.
The drama got intense with 43 seconds left and the game tied, The West had the ball and the East played a little defense — how often do you see that in an All-Star game — but Chauncey Billups found an open Deron Williams, who passed on the open three and tried to drive, only to be stripped by Wade. Wade then brought it up and was fouled by Williams, who thought his team was behind and he had to foul. Oh, he is going to hear about that from teammates for a while. Wade hit both, East by two.
Out of a timeout, West coach George Karl drew up a play for Nowitzki — the hometown hero and host of the weekend — to take a three to win it. But Dwight Howard came out, so Nowitzki pump faked then drew the foul driving into him. Nowitzki hits both free throws, game timed at 139-139 with 7.7 seconds left.
East coach Stan Van Gundy then drew up a play for LeBron James — who else? — but he was double teamed (again, defense in an All-Star game, Larry Brown was smiling somewhere) and hit Chris Bosh, who was fouled driving to the hoop. He hit two free throws, putting the East up two.
The West's final play was a Carmelo Anthony isolation three — he had been the guy on the West trying to take charge of the game all night — but LeBron was focused and up in his face, and Anthony missed and that was the ball game.
Early in the second half it looked like the East might pull away, as they started the third quarter the East started out on a 14-5 run and we finally got the Dwight Howard, LeBron dunk off everybody had wished they had watched on Saturday. LeBron had four reverse dunks by my count (not an officially kept NBA stat — but it should be) .
The West actually made it close again, thanks to a bench lineup of Billups, Pau Gasol, Kevin Durant, Williams and Zach Randolph. Game was tied with 6:30 left to play when that group was done.
Then the end of the game became the Summer 2010 Free Agent Showcase — James, Wade and Chris Bosh took charge.