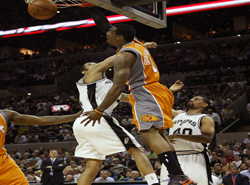 There were so many things wrong with Steve Kerr moving to bring Shaquille O'Neal to the run-and-gun Phoenix Suns a few years ago that it's hard to remember them all.
But fans and management in Cleveland should remember this one as the Cavs close in on a deal with the Suns: Amar'e Stoudemire was not the same player when Shaq was on the floor.
In theory they should be able to play together — Stoudemire in the high post, Shaq in the low post. But it didn't work that way. Stoudemire likes to work on the low block and use his quickness, but that space was filled up. The Suns slowed down and Stoudemire found it harder to slash to the rim because Shaq's defender was right there to help.
What's worse, Steve Nash's dribble penetration became difficult because the lane was clogged with big defenders, as opposed to being spread out. LeBron James, may want to ask Nash about this when he runs into him in Dallas this weekend. LeBron can already be a little eager to settle for the jumper, this could exacerbate that habit.
To be fair, that Shaq/Stoudemire Suns team started to figure it out and was hot going into the playoffs — this was a franchise that had been a Western Conference title contender three straight years, and maybe they had figured it out. Then they got routed in the first round by the Spurs. The next year they didn't even make the playoffs (although injuries played a large role in that).
Stoudemire in some ways is a perfect running mate for LeBron on offense, and maybe this move and a contract extension with Stoudemire is about the future as much as the present. But Stoudemire can be a disinterested defender and certainly will struggle to stop the likes of Dwight Howard on the low block. The trade as proposed would send Zydrunas Ilgauskas west, so Shaq would be the lone guy who can defend true centers on the roster this season, and if he left after this season the Cavs would have another hole to fill.
When the Suns traded for Shaq, they had the best record in the Western Conference, were title contenders but thought they had a weakness that needed to be fixed. Right now Cleveland has the best record in the East, has beaten the Lakers twice and looks like a title contender.
Do they need to take the risk?