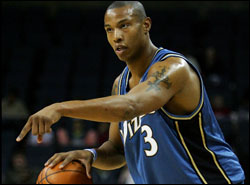 How big is the trade that became official today, sending Caron Butler and Brandan Haywood to Dallas? Ask the guy the trade was made to beat, Kobe Bryant.
Kobe, does the trade put the Mavericks on par with the Lakers?
"No question," Kobe said Saturday when asked by our girl Gina Miller whether the trade moves the Mavs to the Lakers' level. "I hate to say it, but it's true. … Trust me, I don't like it by any stretch of the imagination. But it's a great move by (Dallas). It pains me to say it. But you guys made two great pickups."
The trade was reported yesterday and got the official thumbs up from the NBA today: Butler and Haywood plus DeShawn Stevenson to Dallas, while Josh Howard, Drew Gooden Quinton Ross and James Singleton head to Washington.
This is a big upgrade all around for Dallas. First, Butler is just a little bit better at everything than Howard at this point in their careers — better shooter, better from three, better rebounder, better defender.
The bigger upgrade, frankly, is Haywood. Right now the Mavericks put the incredibly pedestrian game of Eric Dampier out at center every night to start. Then they run into good front lines like the Lakers or Nuggets and he gets dominated. Haywood is not the second coming, but he is playing slightly above average ball. He can do a better job defending the Lakers bigs in the playoffs, and now they bring another big body off the bench (even if it is to soak up fouls).
The move will cost Mavs owner Mark Cuban — about $30 million extra over the next few years. Washington made the move because it saves them money.
It's too early to say Kobe should be scared. But he should be worried.