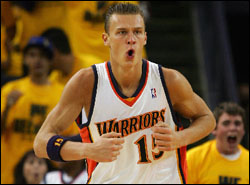 CBS Sports' Ken Berger is reporting that the Warriors may be looking to shop the four-year, $36 million dollar contract of Andris Biedrins, the Latvian center currently in his sixth NBA season.
Biedrins is still only 24 years old, and is a tremendous athlete, shot-blocker, and rebounder. He has an extremely limited skill-set offensively, but converts the opportunities he gets, and has always had a great field goal percentage.
He has missed significant time due to injury this season, and his minutes, scoring, and rebounding have all dropped from last season. The Warriors apparently don't see him as a part of their future, and are looking for someone to take his contract off their hands. The Warriors have plenty of young talent on their squad, and are still searching for some way to turn that talent into a winning team. Some cap room could be a nice start, but the Warriors may need to go back to the drawing board and make some drastic changes on every level if they want to bring the playoffs back to the Oracle Arena.