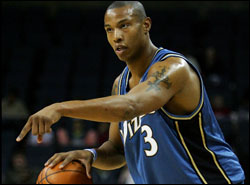 Update 8:15 pm: According to the twitter of ESPN's Marc Stein, the deal involves Josh Howard and Drew Gooden going to the Wizards in exchange for Butler, DeShawn Stevenson, and Brendan Haywood, although it likely will not be finalized before Monday.
6:53 pm According to Yahoo! Sports' Adrian Wojnarowski, the Dallas Mavericks and Washington Wizards have agreed to a deal that would send Josh Howard to the Wizards and Caron Butler to the Mavericks.
For the Wizards, the goal is to cut costs as they prepare to rebuild. Butler is owed 10.5 million dollars next season, and the Wizards would have a team option on Howard's 11.9 million dollar deal next year. There have also been rumors that the Wizards are trying to unload DeShawn Stevenson in the deal, who is averaging 2.2 points and owed 4.1 million next year.
This deal represents an on-court upgrade for the Mavericks. Both Butler and Howard have had somewhat disappointing seasons, but Butler has averaged significantly more points, assists, and rebounds than Howard on better shooting from the field and the line. He's also had some of the best defensive statistics in the NBA thus far.
This effectively shuts down the rumors of a Ray Allen for Butler/Jamison swap, but Wojnarowski reports that the Celtics and Wizards are discussing a "scaled down" deal for Jamison.