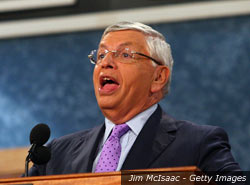 It's a big show in Dallas — more than 90,000 people, high flying stars, a dunk contest the night before, no expense spared for the NBA's biggest weekend.
Ignore that dark cloud over the proceedings.
Today in frigid Dallas (well, for Dallas), the owners and players representatives will sit down for their first talks on a new NBA collective bargaining agreement (CBA). The owners have the option to opt out of the current CBA by the end of the year and are expected to do so, meaning the teams have until the start of the 2011-12 season to strike a deal.
In its first proposal the owners skipped the shot across the bow and went right for the middle of the hull.
A person who has seen the document tells The Associated Press that first-round picks would have their salaries cut by about one-third and the minimum salary would be reduced by as much as 20 percent. The person spoke on condition of anonymity because he was not authorized to comment publicly about the negotiations.

The total value of a maximum contract also would drop significantly.
According to other reports, the proposal calls for all deals — including already negotiated ones — to have to be scaled back to the new levels. That means that the massive deal LeBron James and Dwyane Wade get this summer would be cut back after a year to fit under the new CBA. The owners are clearly using the current economy to get back things they wanted from previous negotiations, when they didn't have the leverage of money loss on their side.
That's the kind of thing that could lead to an eventual lockout.
It's the first proposal of a negotiation, so the owners have done the right thing in asking for everything so they can give some things back over the course of the talks and still get what they want. In a speech Thursday NBA Commissioner David Stern said that he expected the two sides would come together because it was in their mutual interests to do.
But he also said to be ready for a long negotiation.