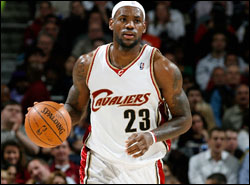 It may strike some NBA fans as odd that the team with the NBA's best record at the All-Star break is also one of the most active teams in trade talks. Not only do the Cavaliers hold the league's best record, but they appear to be rolling at the moment. They're on a 13-game winning streak, haven't lost a game since January 14th, and have been doing it with Mo Williams and Delonte West missing time.
As well as the Cavs have played over this stretch, it's inevitable that they will come back down to earth eventually. Not only will the law of averages come into play at some point, but the Cavs have had some very favorable scheduling over their winning streak. Here's a look at some of the factors that have contributed to the Cavs looking like juggernauts at the moment:
-Of the Cavs' last 13 games, 10 of them have been at home. Since the Cavs have been the best home team in the league for the past two seasons, this is very significant.
-The Cavs have won three games during their streak by only a point, and their game against the Lakers came right down to the wire. Games decided by three or less tend to be as much a function of luck as skill in the NBA regular season; before the streak, the Cavs were 2-5 in games decided by three points or less.
-Oklahoma City, Minnesota, Memphis, Miami, New York, and Orlando all played the Cavaliers on the second game of a back-to-back. The Cavs have played no back-to-back games over this stretch.
After the All-Star Break, things get tougher for the Cavs. They play four of their next six games on the road, have two back-to-backs in those games, and will have to take on Orlando and Boston in their respective arenas. The Cavaliers have been extremely good over this stretch, especially with their injuries. But Danny Ferry is still looking for a move, because he knows they're not quite as invincible as they've looked.