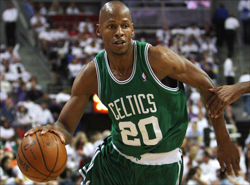 Update 1:04 pm Celtics General Manager Danny Ainge is now denying that these talks are taking place at all. This deal is apparently now dead. Much to the dismay of Celtics fans.
10:07 am Celtics General Manager Danny Ainge is not afraid of the big move. Heck, that's how the Celtics got here in the first place.
Now, with the team's championship window appearing to close, he is close to making another big move.
In a dramatic move that would resuscitate their fading championship hopes, the Boston Celtics are discussing a deal with the Washington Wizards for forwards Antawn Jamison and Caron Butler, league sources told Yahoo! Sports on Friday.

The proposed deal would send the expiring contracts of Ray Allen(notes), Brian Scalabrine and J.R. Giddens to the Wizards, a move that would signal the start of Washington's rebuilding process…

For the Celtics, ownership would have to agree to take on an additional $24 million in salary next season between Jamison and Butler. Jamison makes more than $15 million in 2011-12, but most owners are discounting those salaries because of an assumption that there will be a labor lockout and some, if not all, of that money will never be paid to the players.
Lets ignore that "owners expect a lockout" line and just focus on the trade for now.
That would bring a lot of offensive firepower to the Celtics — a combined 37 points and 15 rebounds a game, plus spread out the scoring among more players Both are also shooting the three just a little better than Allen this year (who has seen a dramatic drop off to 33.8% from three, the lowest percentage of his career). Also, both Butler and Jamison are getting to the rim more than Allen this year.
This deal is not imminent and both teams are working multiple deals for their stars. However, if it comes down this would be a huge upgrade for the Celtics, although a healthy Kevin Garnett would still be needed to get banner 18.