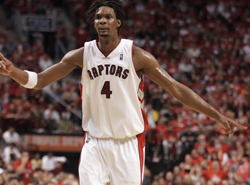 Chris Bosh does not want to be LeBron James' sidekick. Dwyane Wade's either.
"That's a good question," Bosh said when asked by ESPN The Magazine's Ric Bucher if he's bothered by the widespread perception that he's determined to follow either LeBron James or Dwyane Wade by signing on with one of the teams they choose starting July 1.

"It's funny you say that, because I was thinking about it. I was just looking at what people say and it's like, 'Chris is going to go here and play with him or this, this and that.' I'm like, 'Wait a minute.' I feel like I should be built around. And maybe that's just my ego talking, but I feel that I'm a very good player in this league and I'm only going to get better. So … maybe we should be getting somebody [in Toronto]."
While the conventional wisdom among the media is that he is going to leave, he has said before on more than one occasion that he may well never leave Toronto. He has said he loves living in one of the great cities of North America.
For fans in Miami, New York and New Jersey — anywhere people thought they could pair Bosh with another superstar — this is sobering news. Bosh thinks he's the man, and wants a chance to prove it. He's not a follower, he's  a leader.