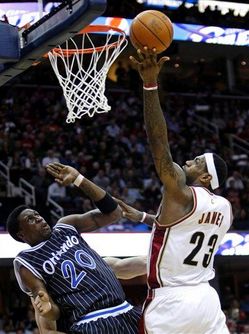 Our game recaps from Thursday, or what you missed while driving around to find the Kogi truck.
Cleveland 115, Orlando 106 You would have thought early on that the big men — and the referees with their tight calls — would decide this one. As the game headed into the stretch, both Shaquille O'Neal and Dwight Howard had five fouls. But neither of them fouled out.
In the final minutes, the game was decided primarily by the perimeter players. LeBron James stepped up like you expect a superstar to. Jameer Nelson continues to make my wonder what happened to the Jameer Nelson from before the injury last year. I miss him.
For most of the game the Nelson and the Orlando guards did a good job feeding the post, especially when there were mismatches. Nelson was not fantastic, but he was playing within the offense.
Until the game was on the line, then Nelson and the rest of Orlando became about the jumper. From the 5:30 mark in the fourth quarter (with the game timed 96-96) until a Vince Carter eight-footer with just over 1:00 left, the Magic went 0-6 from the floor. Five of the six shots were long jumpers (three from beyond the arc). Cleveland was part of the reason — in a game that was largely without good defense the Cavaliers picked up the intensity at that end of the floor — but Orlando's guards settled. The inside-out ball movement was gone, the Magic went to the isolation plays.
What did Cleveland do in that same stretch? Two Shaq buckets right at the basket, a LeBron driving layup, a Delonte West three that was set up by more LeBron penetration, and a ridiculous LeBron step-back 23 footer with Mickael Pietrus in his face. Mostly, they got good looks (and hit the tough one). LeBron and the Cavaliers know how to close. They have the look of a champion.
San Antonio 111, Denver 92 This game was basically over in the second quarter. San Antonio was ready to play — they needed a big win, and seemed more focused as a team knowing they would have to do it without Tony Parker. Denver was as focused as a high school student on the Friday afternoon before Spring Break.
San Antonio not only shot well — including 47.4% from three — but they dominated the offensive glass, grabbing the rebound on 35.7% of their missed shots. Too good a team to give second chances too.
Denver on the other hand, 39% shooting, 3 of 19 from three. You're in for a long night when Nene is your hot shooting hand (8 of 9). Can't read much into this game long term, Denver's players were clearly already thinking about Spring Break and the beach. Well, except for Carmelo and Billups, who were probably wondering how the heck they were going to get into snowed-out Dallas.