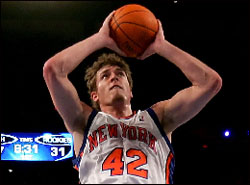 Editor's note: From time to time, Ira Winderman will jump in with
longer analysis of some bigger issues. These "Quick Takes" appeared
previously as stories on NBCSports.com and will now appear within ProBasketballTalk instead.
This had better be one of those rest-of-the-story stories, where we find out after the fact that David Lee received his All-Star replacement berth because Josh Smith was out of cell range, Shaquille O'Neal had previous engagements, Andrew Bogut politely declined, Ray Allen was preparing for a potential trading-deadline relocation and Joakim Noah didn't have a foot to stand on.
Because if David Lee, for all his impressive (if not somewhat hollow) numbers is an All-Star, then the NBA's annual classic has severely lowered it standards.
Yes, 20 and 11.4 carries plenty of weight.
But how many opponents game plan with Lee as defensive focus?
Probably not nearly as many as those trying to keep Smith from getting out in transition in Atlanta.
Or those fronting Shaq in the post.
Or those rotating a second defender toward Bogut.
Or meeting Allen at the 3-point line.
Heck, David Lee isn't even the best David Lee in the East this season. That would be the Bulls' Noah, who has been slowed only by his foot woes.
Yes, the Hawks might not merit three selections, but Smith remains as egregious an oversight today as the day Al Horford was named a reserve alongside Atlanta teammate Joe Johnson.
And Cleveland still remains with a solitary All-Star, with Shaq having emerged as force this past month as the league-best Cavaliers play with a bare naked backcourt.
As for Bogut, his team is on the move, putting the pressure on Dwyane Wade and the Heat for that final playoff berth in the East.
The Jason Kidd emergency selection in the West made enough sense with its hometown angle, considering, with the latest weather developments, that already being in Dallas is emerging as a prime selection criteria. Heck, if Kidd couldn't make it, the next call was going to J.J. Barea.
But just like the ridiculously rostered Pro Bowl, where Yeremiah Bell somehow was issued a jersey two weeks ago, if being a hustle player is all it takes to make it to the NBA's annual showcase, then the talent pool isn't nearly as deep as previously thought.
It is getting to the point where baseball's policy of one-player-per-team might as well be adopted.
That way, if Lee, too, had been out of cell range, we then could have witnessed the athletic delight that is Wilson Chandler.
Ira Winderman writes regularly for NBCSports.com and covers the Heat and the NBA for the South Florida Sun-Sentinel.