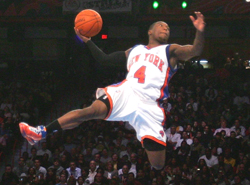 There are certain things a player cannot do, lines that cannot be crossed. For example, dropping an F-bomb on the coach when he tries to call in a play.
Meet Nate Robinson. He did that last night. And he can now be yours now at a very reasonable price.
As the trade deadline approaches, there's also a movement to see what Robinson could fetch. When the Knicks thrived in December, posting a 9-6 record, Robinson did not play a meaningful minute. Since his return on Jan. 1, the Knicks' record is 7-12.
Knicks coach Mike D'Antoni may not want to believe it, but this season has always been about the young players. This is not a talented team in the least, the playoffs were always a long shot. The key was getting young players experience, seeing what you had for the future. Then getting some guys to go with them this summer.
Along those lines, trading Robinson to get a young player is a good idea (no need to do it for cap space, Robinson's deal expires after this season). The question is how many teams will give up a good young player for a gunner off the bench. Robinson can score, he brings a lot of energy, the crowd loves him, but if you are a veteran team looking to make a deep playoff run you have to question the fit.
Just ask D'Antoni how he fits.