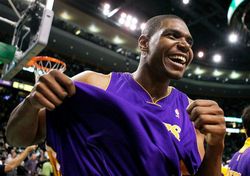 If there has been one chink in the Lakers armor this year, it has been bench play — what last year was an intimidating bench mob is this year an unimpressive bench sewing circle.
One potential fix — starting Lamar Odom and bringing Andrew Bynum off the bench.
"My coaches are kind of pushing me in that direction, but I'm not ready yet to do that," (Lakers coach Phil) Jackson said. "We won last year with Andrew when he came back at the end of the season, going out there and playing the first quarter and starting the games. Even though he wasn't 100 percent when came back off his injury last year, he still gave us a lot; he gives us a big front. So I have to measure that and see what's going to happen with this team in the next couple weeks."
This is a shot across Bynum's bow, a warning. It's an acknowledgement that Bynum and Pau Gasol have yet to really play well together. Bynum's confidence game-to-game is based around early offensive success — if he gets early touches and a few hoops his defense and rebounding improve. But when Gasol is in and he gets those touches, Bynum goes into a shell and is not the same player, he turns into Eric Dampier.
Meanwhile, Lamar Odom and Gasol mesh beautifully, as evidenced by the last two wins without Bynum and Kobe Bryant. Bynum and Kobe can be the big culprits in why the Lakers offense "sticks," why the ball movement stops. Bynum can be a black hole — the ball goes in and does not come out. He is not an accomplished passer. Odom may be maddeningly inconsistent, but having two good passing big men makes the triangle offense hum.
Lakers fans have a love/hate relationship with Bynum that clearly the coaches do as well. No doubt the Lakers need him to win a title — they will need his size against Denver, they will need his defense against Dwight Howard or Shaq if they make the finals. He is a matchup nightmare.
But can he bring those things from the bench? Objectively, yes. Because he would be the first guy off the bench doesn't mean he can't finish games if he is playing well (and the matchups are right). But Bynum is a young player still in the "I need to get mine" mentality — hence the need for early touches to be effective.
How would he ego handle coming off the bench? It may well be what's best for the team on paper, but if it causes Bynum to go into his shell every game then it is no good. Phil would like Bynum to realize what is best for the team, and make the offer (like Luke Walton did last season when he told Jackson to start Trevor Ariza ahead of him). But Bynum probably is not mature enough for that. The Lakers need the good Bynum for the playoffs, and starting him may be the sacrifice to make sure that Bynum shows up.